Hooyboer Legacy Society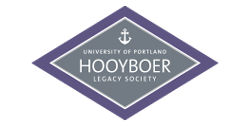 The Hooyboer Legacy Society was established to recognize those men and women who, like the two generous Holy Cross priests for whom it is named, made the University of Portland a part of their legacy. Over the years the University has been blessed with many benefactors who have shared the Hooyboers' commitment and who have demonstrated their loyalty by establishing a planned gift that advances the University to higher levels of achievement. Planned gifts are established through various means that you can explore on our website pages.
Planned gifts become a lasting legacy and symbol of the donor's values and aspirations, immeasurably benefiting the University and its students. Gifts strengthen programs, activities, and curricula, allowing the University to build on its traditions of teaching, faith, and service. Other gifts provide enhancements to the physical campus. The primary value of all planned gifts is that they allow you, as a donor, to make a statement of support that will provide new foundations for the future.
How to Become a Member
To become a member of the Hooyboer Legacy Society, you may inform the University in writing of your gift (and enclose a copy of the pertinent documentation, if you wish to do so). We are available to assist you with this process. Bequests, charitable gift annuities, chartiable remainder trusts, gifts of real estate, and naming the University as the beneficiary of your life insurance plan, retirement account, or other assets will qualify you for membership in the Hooyboer Legacy Society.
In Appreciation
The University of Portland wishes to recognize and thank those who support our mission through planned gifts. Members receive:
An invitation to the annual Hooyboer Legacy Society Luncheon.
A subscription to our publication, Sharing for Tomorrow.
A certificate recognizing your membership in the society.
Invitations to special events hosted by the University.
For a list of more University of Portland Giving Societies, please click here.
Please call Amy Eaton, at 503-943-8551, or e-mail us at eatona@up.edu, for more information.
The The Hooyboer Brothers: Preserving the Dutch Masters' Legacy
Fr. John Hooyboer's devotion to the University of Portland began the afternoon of September 3, 1934, when he stepped off the streetcar that had delivered him to the main gate of the campus. The Bluff in those days consisted of three buildings, a forest of trees, a bramble of raspberries, a potato field, and the remains of an old cow barn. But, for Fr. John, it was love at first sight.
Those were anxious days for the University. After 33 years of operation, it was still struggling to establish itself and it was deep in debt. What it needed most of all was loyalty and commitment—just the sort of thing Fr. John had to give.
In the late 1940s, Fr. John was joined at the University by his older brother, Fr. Cornelius Hooyboer, and it was not long before the two became known throughout the West as the "Dutch Masters." Fr. John was named director of admissions, and Fr. Con joined him on his recruitment odysseys. Together, with their dog Jimmie, they traveled 25,000 to 35,000 miles a year to introduce the University to parents and students up and down the West Coast. After Fr. Con died in June 1977, Fr. John carried on alone—serving the University and nearby parishes until 1993, when he moved to Holy Cross House at South Bend, Indiana.
© Pentera, Inc. Planned giving content. All rights reserved.
Disclaimer