Endowed Fund Gives Aspiring Engineers Access to a UP Education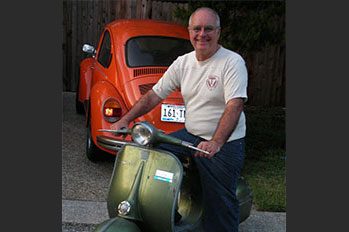 From Greg Shean's perspective, what you know is far less important than how you use that knowledge. During his 23 years as an Air Force officer, Greg worked on projects as a liaison between the technical people and upper management. "I knew how to relate to engineers and then to express to management what was happening," Greg says.
Greg also saw the importance of putting what you know into practice during the 12 years he spent teaching high school math. "If students didn't want to do the homework, they didn't learn," he says. "When you apply yourself to something, the experience and knowledge is remembered."
That's part of why he established the Gregory M. Shean '69 Endowed Financial Aid Fund at the University of Portland—to give more individuals the opportunity to study engineering at UP. "My high school, Bellarmine College Preparatory, got me on the way, and UP got me there," Greg says. "At UP I learned how to learn and where to find information. I want to support other students' involvement in engineering activities, especially in combining teamwork with technical knowledge in robotics competitions."
To help support his fund, Greg is using his teaching retirement funds to establish a charitable remainder trust. "Having a charitable remainder trust as part of my estate planning allows me to help a fellow engineer and to make an annual tax-deductible donation. Trust proceeds will be rolled into the endowment, and eventually, the entire trust will be merged with the endowment," Greg says.
"I feel lucky to have gone to UP," he continues. "And I feel very privileged to be able to say thank you in this way. This gift will keep on giving after I'm gone and help many engineers in the future."
To learn more about how you can create your own endowed fund or contribute to an existing fund, please contact Amy Eaton at 503-943-8551 or eatona@up.edu.
© Pentera, Inc. Planned giving content. All rights reserved.
Disclaimer